Can I place plant pots and other objects on my decking?
Adding planters to your deck helps to create the finishing touches to your outdoor project, bringing colour and interest. 
To get the best performance from your deck timbers we advise that any planters, tubs or plant pots should be raised on blocks or specially designed 'feet' to allow air circulation and to avoid trapping moisture for prolonged periods. The use of trays is recommended to catch any excess liquid when watering plants.
Use Class 4
Plant pots that are placed directly onto the deck surface will trap moisture underneath, increasing the exposure risk and creating potential problems.  That is unless your deck boards are made from Use Class 4 pressure treated softwood timber or a durable hardwood.   These are higher specification, longer lasting products and if you are considering a deck and want to max out on performance, these are what you should choose.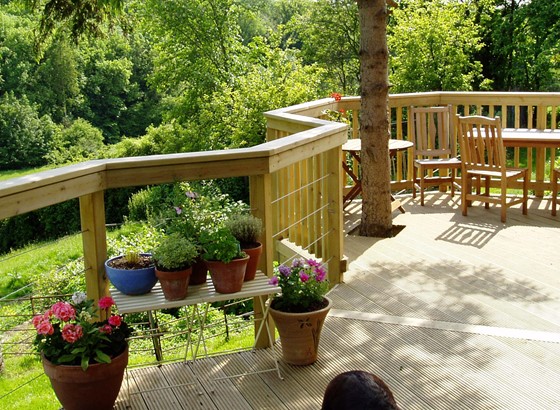 Heavy Loads
Excessively large or heavy objects should not be placed on the timber deck without first checking with the deck installer or a suitably qualified professional such as a structural engineer.  During the design phase, a professional installer will have created your deck to withstand an anticipated load having discussed with you how you intend to use it.  If very heavy items are added afterwards, such as large planters or hot tubs, this is likely to invalidate any warranty.  Not only that, it is potentially dangerous to overload the deck with very heavy object unless it was designed to take such loads. Keep up to date.
Subscribe for news and product updates.