I want a hot tub on decking, what do I need to know?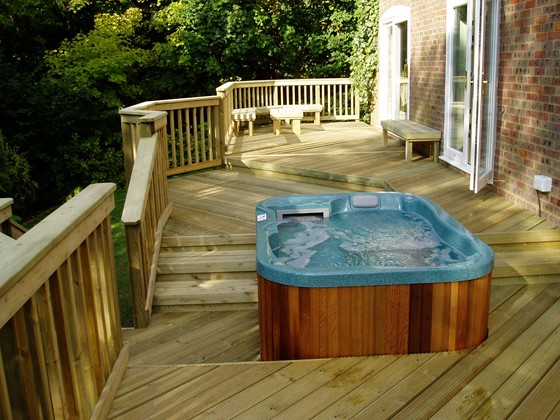 Hot tub decking is exactly the same as all other decking – the difference is in the construction of the timber deck. As hot tubs have become increasingly popular to install in gardens across the country, decking has become the platform of choice. There are many considerations before undertaking a project such as this.
A hot tub on decking can weigh a great deal when full – several tonnes in fact. It is therefore vital to ensure that the structure can take the weight. Timber decks with this requirement are usually purpose designed with the involvement of a structural engineer. Appropriate stress graded timber should also be used within the structure.
We would always recommend speaking to a specialist TDCA company, should you wish to place a hot tub on decking. They will have a professional approach and be able to ensure that the structure is safe and long-lasting. Whilst it might cost a little more to get a specialist company involved, the pitfalls of not doing so could be very costly indeed and quite possibly dangerous.
Anti-slip measures
Due to the combination of timber and water, many hot tubs are now being surrounded in anti-slip decking; at the very least, the walkway from hot tub to house. This can be an excellent safety precaution and reduce the risk of enduring slippery decking from wet feet walking to and from the hot tub. Indeed, anti-slip decking is increasingly being considered by many commercial holiday parks where hot tub deckings are becoming more commonplace.
The TDCA can advise you on material suppliers in addition to specialist installers, whether you wish to place a hot tub on decking or perhaps another weighty structure, such as a summer house. Please get in touch if we can help you further.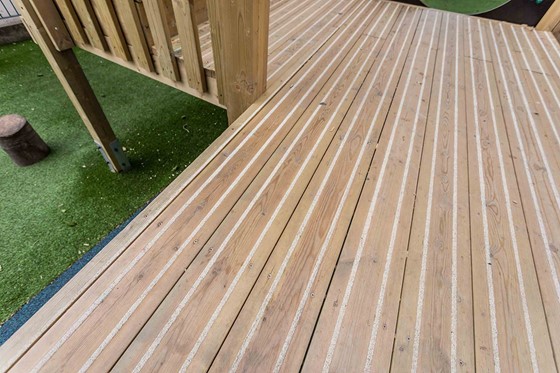 Keep up to date.
Subscribe for news and product updates.