Deck design ideas: can I personalise my deck?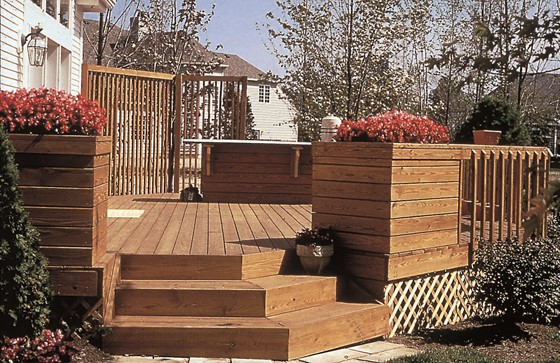 Your decking will become part of your overall garden design and there are plenty of deck design ideas to help you personalise it to accommodate your own style and personality.
Consider aspects like balustrades, pergolas, steps, levels and trellis. They can all offer you ample inspiration to help you create the timber deck of your dreams. Balustrades can create a feature in addition to adding safety. They might be in timber or perhaps in a contrasting material to create a more contemporary look and feel. Pergolas and trellis' can create an entrance to your outdoor "room" and provide height in your design as well as the opportunity to incorporate plants.
Recent trends in deck design include multi-level decks and the addition of accent lighting. These might be aspects that you want to incorporate into your own design, to create an outside area that you can use throughout the year and get plenty of enjoyment out of. Different levels for example, can create an attractive and interesting deck, whilst breaking up the space into usable areas. It can give you the opportunity to sit and view the garden from different aspects.
You might also choose to paint or stain your decking to suit a particular colour scheme. Indeed, some anti-slip decking strips can come in different colours and can prove to offer excellent deck design ideas in addition to added safety.
Why not take a look at our gallery and the many other resources online that can give you inspiration for your deck design? Select some images that you particularly like and then consider how the elements might work in your own surroundings. If you are working with a professional installer, they will no doubt be able to offer you many deck design ideas from work that they have previously undertaken and photographed. Keep up to date.
Subscribe for news and product updates.