Become a Member
For almost a quarter of a century the TDCA has been helping specifiers, contractors and DIY enthusiasts to create their decking and cladding projects.
By being independent, the TDCA is a trusted and established voice in the industry. We are supported by a diverse membership of large and small businesses and our income is invested in setting standards and growing demand for timber cladding, outdoor decks and associated landscaping products. 
By joining the TDCA you give us the ability to do even more.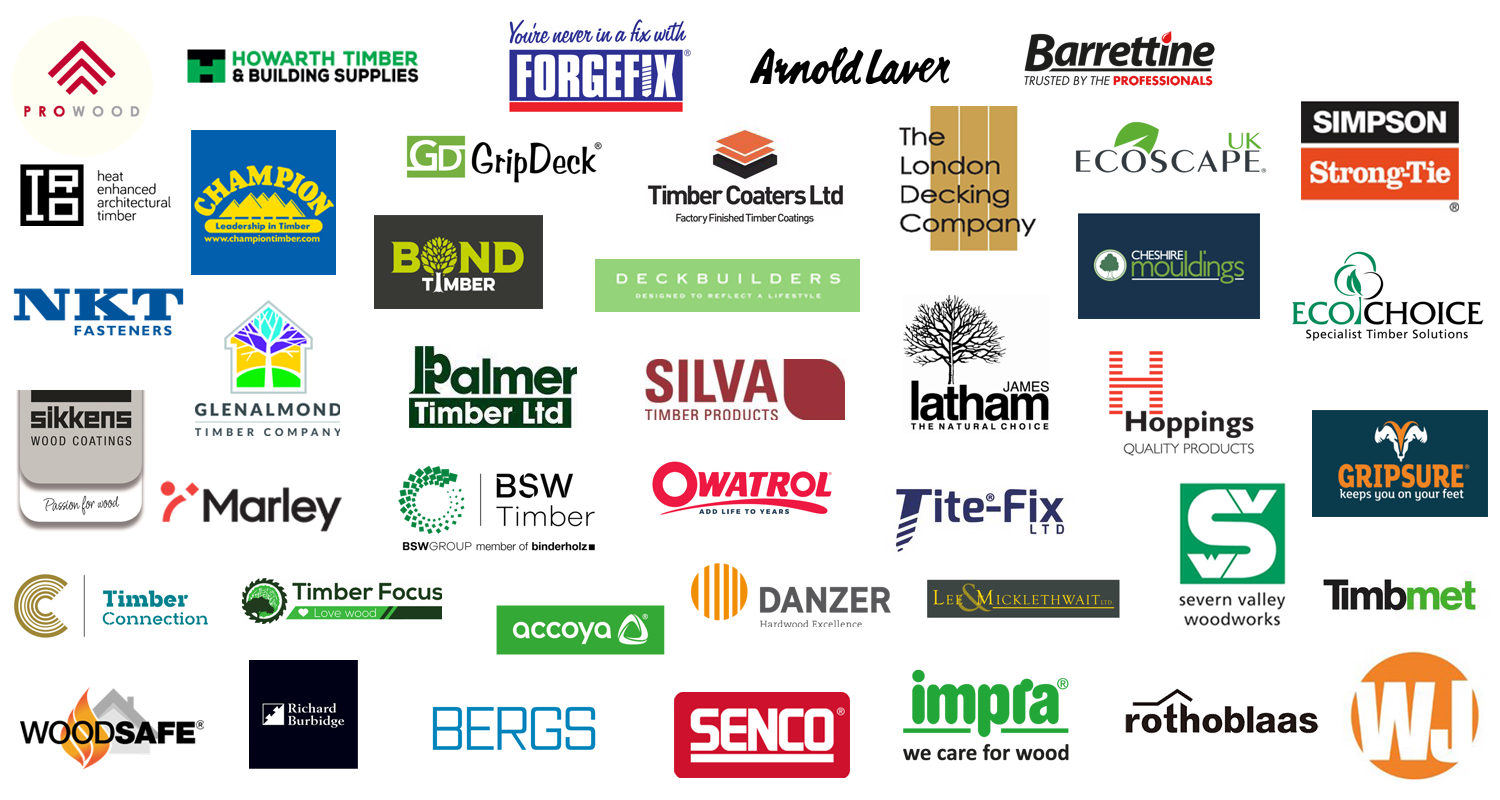 At the heart of the Timber Decking and Cladding Association is a mission to advocate fit for purpose products and best practice installation methods - and in turn champion the businesses who supply such products and services.
Janet Sycamore, TDCA Director
Reasons for joining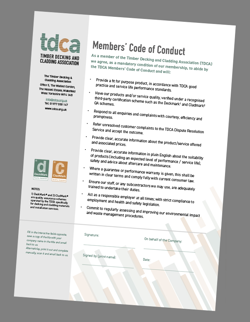 Businesses often decide to join the TDCA with one specific objective in mind. For many it's the kudos of being part of a trusted organisation. For others it's the credibility of having a third-party quality accreditation.

At the heart of membership is the TDCA Code of Conduct. It sets out the principles we expect members to abide by. Signing the Code is a great way for members to demonstrate to their customers their commitment to quality standards and best practice.
Whatever the reason, most businesses typically find that membership opens-up many more benefits and commercial opportunities than they had imagined.
Benefits and features of TDCA membership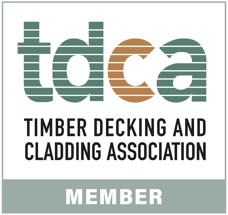 Brand affiliation
The TDCA logo is widely recognised and what it stands for is respected. Showing the member badge adds immediate value – demonstrating your business is part of a reputable and professional trade organisation where quality and standards matter.

Membership reassures potential customers about the credibility of the service you provide and builds on the trust essential to getting the sales conversation going.



Third-party accreditation
DeckMark® and CladMark® are independent quality assurance schemes operated by the TDCA. They cover products, supplier companies and installers. They are widely recognised accreditations with a growing reputation. Such third-party validation is vital to specifiers looking to ensure their projects go smoothly.

We do stipulate that members strive to achieve these standards as part of their membership to the TDCA.
We will do our best to work with you to help you achieve the accreditation. Many members find this extremely helpful from a quality perspective. 
Technical support
Our bank of auditors have a wealth of industry and commercial experience and are happy to share their knowledge. The TDCA team includes people with both marketing and technical skills gained from relevant industry experience and are there for members to contact – by email, phone and in-person. Members have free access to a growing library of downloadable 'how to' publications, on such topics as materials, design, installation and current building regulations. Our technical documents help set the good practice standards in the UK and are referenced by organisations such as the National Housebuilding Council (NHBC) and Timber Development UK.

If you have a dispute with a customer related to product quality or installation, under the terms of our DeckMark and CladMark schemes, we offer our services to help resolve the situation.


Marketing and Promotion 
We actively promote the values of decking and cladding to a wide audience through targeted newsletters, case studies, Twitter and LinkedIn posts and advertising, regularly submitting articles to trade, technical and consumer magazines. The TDCA website is the hub of all our activities, receiving on average 5000 visitors a month.

On our site, each member has a showcase page where you can submit text, images, videos, case studies and links back to your own site pages. We tag your page to correspond with our extensive Supplier Search facility – meaning customers can find you based on what you offer.  In all instances we advocate our members' products or services where they are relevant, providing an additional level of exposure for your business.


Information, insight 
Whether its compliance with British Standards, changes to Building Control requirements or industry specific health and safety regulations – membership of the TDCA ensures your business stays in the loop. We will inform you of new developments, statutory requirements, industry statistics and market trends.


Sales leads
We have a subscription service to Glenigan to provide weekly construction planning leads for our members to use. We can provide key contact information too if you need to get in touch with a specific person related to a particular project.

In addition, we provide a free sourcing service to the public and trade, where we procure a client's project details and share with our members so they can find their ideal match. This helps you to win business, make sales and grow.


A stronger voice 
We listen to our members and strive to represent your views. As a group we have the power to contribute and influence the standards that affect the industry. Membership of the TDCA provides an opportunity for members to connect with the activities, specialist expertise and objectives of other timber trade associations. 

The TDCA has strategic alliances with both The Wood Protection Association (WPA) and Timber Development UK. The three organisations work together on research, political lobbying and communications initiatives that are mutually beneficial. 


Quest Business Support Services
Quest specialise in working with trade organisations to provide members with a range of benefits that offer real value to their business. To cover key areas of business operation, we have invested in four advisory services which all TDCA members will have access to: HR, Legal, Health & Safety and Tax.

You can access a dedicated website with over 750 free downloadable template documents or phone for access to all advice line services. Ideal for small and large businesses alike – even if you have devoted departments that deal with the particular business areas. Your individual login can be shared with a relevant person(s) within your organisation.
Who can join the TDCA?
Membership is divided into two sectors – decking and cladding. The member chooses to be in either or both sectors in which the business operates.  
Each sector has the following classes:
Manufacturer: a business in any part of the world engaged in the production of materials/products for sale in the UK outdoor decking, cladding or associated structures market. 
Supplier or Distributor: a business in any part of the UK engaged in the supply of products or services for the outdoor decking, cladding or associated structures market. 
Design & Installation (including Timber Engineering): individual contractor or business in any part of the UK engaged in the professional installation of outdoor decking or cladding and associated structures.  
There is also an Approved Retailer class for stockists of DeckMark or CladMark accredited Products (usually put forward by the Manufacturer member).  These are not full members of the TDCA but they qualify for a basic listing on the TDCA website. 
This list is not limited. A prospective member may apply for membership and accreditation even if they do not naturally fall into one of these categories. Applications will be considered and a new category may be created.
There is no limit on the number of members in each sector or class. 
Membership is not transferable. 
How do I join the TDCA?
A simple Membership application form is available – contact us.

Each new member's application is submitted to the Directors of the TDCA.

Director positions are non-renumerated. They include the TDCA Management Team and a number of key personnel from businesses already in membership (nominated positions).

Once approved, the member pays an annual subscription fee to the Association (as is applicable to their sector(s) choice, and business size/turnover) in line with the Association's funding strategy set by the Directors. 

Once the TDCA Code of Conduct has been signed by a representative of the business you will immediately be licenced to use the TDCA member logo on all communications.

The business then undergoes a verification audit (by an independent auditor selected by the TDCA) to assess quality standards and procedures. This information is used to assess eligibility for DeckMark or CladMark accreditation.  Once accredited you'll be licensed to use the quality scheme logos to promote your products or service.

If you don't quite pass the initial audit, we will do our best to work with you to help you achieve the accreditation. 
With membership growth comes the ability to have more influence, to educate and improve knowledge, raise awareness and promote good quality standards.  If like us you are passionate about timber and would like to see it used extensively and to its full potential, please contact us about becoming a member of the TDCA.
- Janet Sycamore - Keep up to date.
Subscribe for news and product updates.