Cladding Fixings
OVERVIEW
All metal fixings should be made from corrosion resistant materials
Through the face fixing (face fixing) is the most secure way to install timber cladding
Use two fixings per board / batten intersection placed at quarter points and one fixing for cladding boards less than 100mm wide
All fixings should finish flush with the surface
Nail and screw dimensions should be relative to board thickness / density
Position fixing 25% in from each side - a minimum of 20mm from board ends
Take measures to prevent splitting around fixing points e.g. for dense species prone to splitting pre-drill pilot holes 70% of shank diameter
Timber cladding should have a moisture content of 16% ± 4% at time of installation (unless using green oak - specialist knowledge required)
Screws or nails?
Normal practice is to install timber cladding using 'face fixed' nails or screws – fixing the cladding to the batons behind, through the front face of the timber cladding.
Softwood - for most cladding softwoods, ring shank nails are recommended.
Hardwood - on hardwoods and some higher density softwoods (ie. Siberian Larch, Douglas fir), the use of screws is recommended. For such dense species with a potential for splitting around fixing points, the pre-drilling of pilot holes (70% of shank diameter) should be carried out. On green oak, to take up the shrinkage that will occur, it is important to use minimum 4mm oversize pilot holes with washers or fixings with larger heads.
Picture shows heat treated Platowood Frake hardwood cladding. Fixing with large headed stainless steel screws into 2mm oversize holes to allow for any movement.  Photo: Howarth Timber.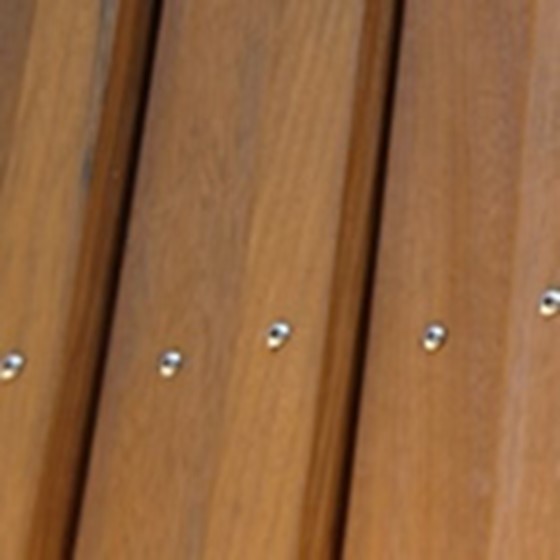 Metal Types
All metal fixings – nails, screws, concealed support systems, bolts and accessories shall be made from corrosion resistant materials whether the surface is to be finished with a coating or left unfinished to weather*.
Suitable metals
Stainless steel-Austenitic grade
Silicone bronze
High performance coated steel
Hot dipped galvanised (BS7371:6 min) copper
Unsuitable metals
Aluminium
Electro plated steel
Brass
The use of dissimilar metals on the same fixing point should be avoided to minimise the risk of galvanic corrosion. When using galvanised fixings care must be taken to prevent the coated surface being damaged by hammers or driver bits as this can lead to corrosion of the mild steel below.
*NOTE: When using species with high tannin or corrosive oil content such as Western Red Cedar, Douglas Fir and some hardwoods, only use stainless steel fixings otherwise the reaction to iron can cause permanent black spotting and corrosion staining of the surface.
Application
Pneumatic fixing guns should be used with care to ensure the surface is not affected by impact damage or the fixings driven below the surface. Many fixings supplied for gun application come with off centre D shaped heads and designers should satisfy themselves that this is aesthetically acceptable.
For screw fixing, hand held 'impact' type screw drivers are best as these are less likely to damage the wood or the drive recess and will insert the screw at optimum speed and prevent the coating burn associated with high speed power drivers.
All fixings should finish flush with the surface and should not be punched or countersunk because this can result in splits and surface staining. As such it is important to ensure that the cladding moisture content is around 16% at time of installation to avoid shrinkage that would leave fixings proud of the surface.
Where concealed fixing is required then boards may be back fixed to counter battens or installed using a proprietary metal fastening bracket or support system. Concealed fixing systems are best used in the prefabrication of cladding panels.
Cladding fixing positions
How you fix your cladding depends on the style of board but there are standard guidelines you should adhere to:
Use double battens to support abutting boards. Batten should extend the full width of the boards either side.
Pre-drill fixing points at board ends to prevent splitting.
For boards 100mm and wider, use two fixings per board at every batten.
On boards under 100mm in width, use one centrally placed fixing.
Use two fixing points per board where they cross a support batten.
Where boards abut, use a second batten to provide adequate support.
Position fixing 25% in from each side and a minimum of 20mm in at board ends and pre-drill to avoid splitting where necessary.
Where the board on board style is used, the fixing used to install the top board must never pass through the underside board. This is because any movement in the top and bottom boards caused by seasonal moisture changes and expansion and contraction will result in splitting.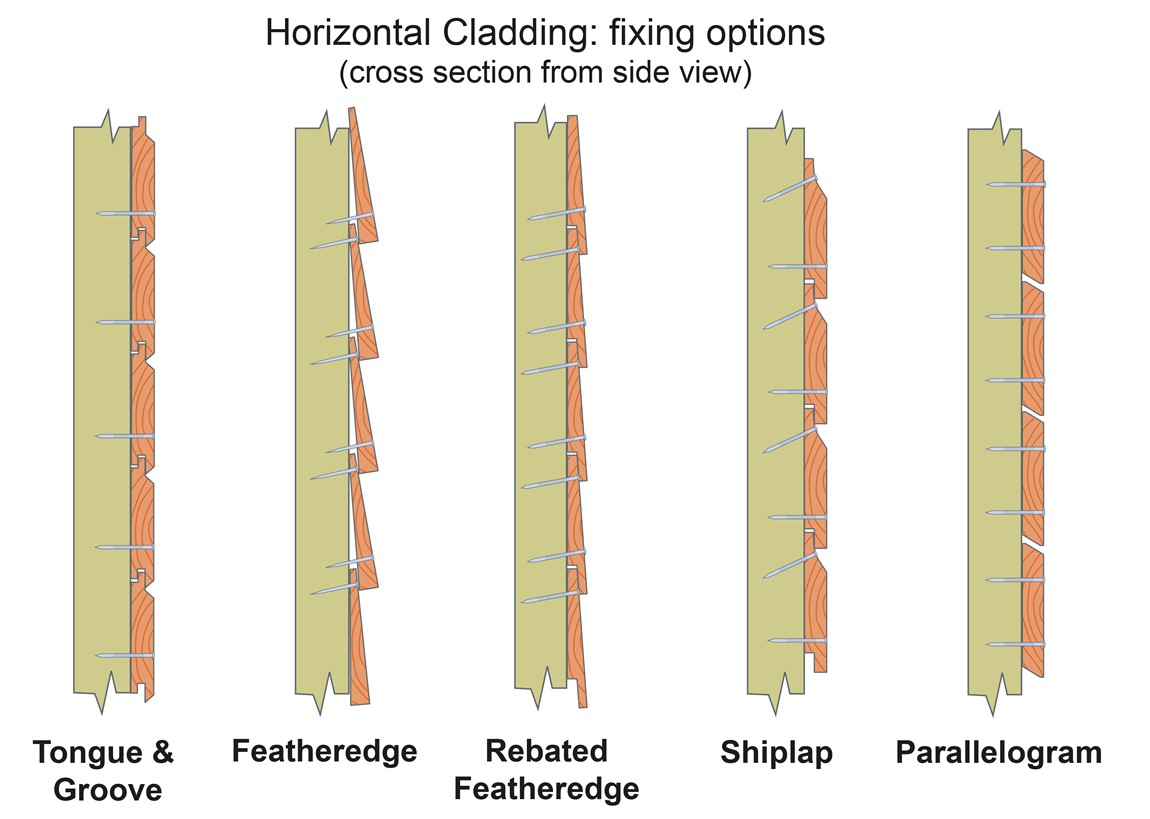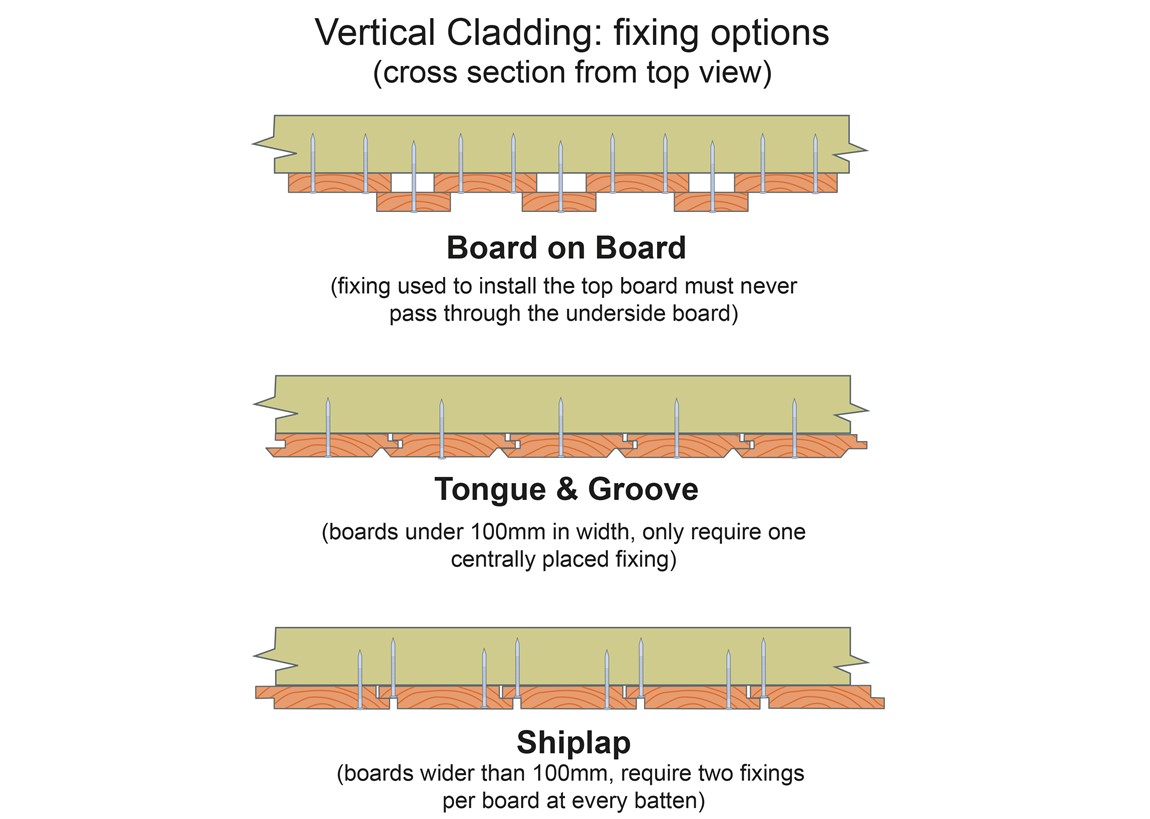 Keep up to date.
Subscribe for news and product updates.