A Builder's Guide to Timber Decking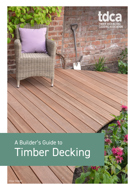 An 8 page brochure outlining the key principles of deck design and installation the TDCA way. The information given in this publication is based on those guidelines for installation on domestic properties.  Commercial decks require more robust design, materials and construction to deal with the loads placed on them and are not covered by the guidance in this brochure - please refer to the Professional Designers Manual.  
This publication is available as a free download to Registered users.  Register / login
£3.50 Keep up to date.
Subscribe for news and product updates.