Will I have slippery decking in the winter?
Slippery decks are simply the result of surface deposits such as mildew, algae and fine mosses which can develop in wet conditions – the same applies to any flat outdoor surface, even stone flags. 
The key factor to keep your deck in tip top condition is to ensure that the deck surface is kept clean and clear of such surface deposits all year round. 
We would recommend that you frequently brush your deck with a stiff brush to remove dead leaves, dirt and moss. Give decking a thorough clean at least once a year either with a mild soap solution or a specialist decking cleaning product and a scrubbing brush or pressure washer – usually done during spring or autumn. Or you could enlist the services of a TDCA member to clean it for you.
If you deck is in permanent shade, under heavy foliage or trees, or is in a commercial setting with large footfall then choose an anti-slip decking product when you first plan your project. There are many designs on the market, the most common being strips of aggregate and resin which are embedded into the board. The enhancement is subtle and does not detract from the natural charm of the timber.
Alternatively, individual strips for retro-fitting to existing decks are available to fit yourself or via a service.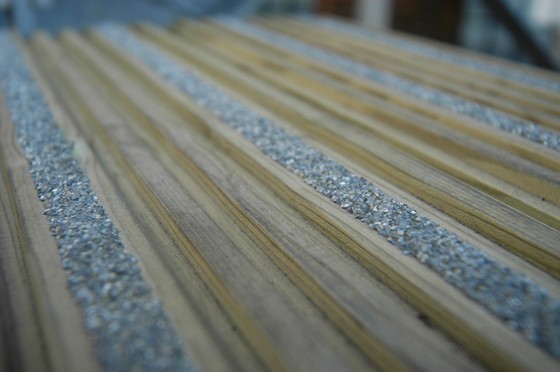 Keep up to date.
Subscribe for news and product updates.