How to clean decking: can I use a pressure washer?
Regular maintenance will ensure that your deck remains in tip top condition throughout its life – it doesn't have to be too onerous; simply sweeping it in its early years using a stiff brush should be sufficient but there will be times when it will benefit from a clean.  
More abrasive action may be required perhaps when the decking is older, or has not been cleaned for some time or you have inherited some decking that has been badly neglected over the years.
Slippery decks are simply the result of surface deposits such as mildew, algae and fine mosses which get worse in wet conditions – the same applies to any flat outdoor surface.
You might consider using a pressure washer to do the job. There are attachments for pressure washers that are designed specifically to clean decking. Just be aware that the timber surface can be damaged or bruised if the pressure used is too high. So choose a lower pressure and don't put the lance too close to the deck's surface.
You can also use a scrubbing brush and a mild soap solution. Choose a dry day and take your time to methodically scrub the grime loose from the timber. Rinse well with clean water and allow the deck to dry prior to any further treatment.
There are also specialist deck cleaning products on the market such as Owatrol Net-trol – easy to use and harmless to plants.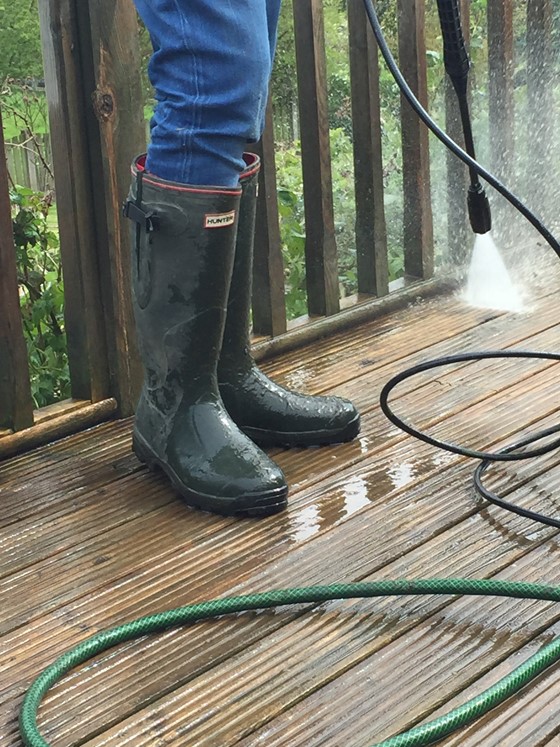 If you are not used to cleaning decking, you might want to hire the help of an expert. We can offer you a list of TCDA accredited decking installers that can offer assistance.
For more information on deck cleaning, download a copy of our deck cleaning guide - it's free for registered users of this site. Keep up to date.
Subscribe for news and product updates.