What decking finishes exist for me to choose from?
You might like to consider all manner of decking finishes in order to give your decking project a custom touch? There are plenty of ideas to choose from.
Firstly, it is important to understand that it you have chosen timber decking that has been correctly preservative treated, there is no need to finish the timber with any product if you wish to maintain the natural look. Deck boards should generally be treated to Use Class 3 whilst timber that will have in-ground contact should be treated to Use Class 4.
Decking stains are popular when considering decking finishes. You might prefer to stain your decking a darker brown to coordinate with other timber that has been used on your house. This is easy to undertake with a sturdy paint brush or you might choose to use a spray or roller system if the area is quite large. Bear in mind that re-application might be necessary every year or so as the environment will gradually fade the stain.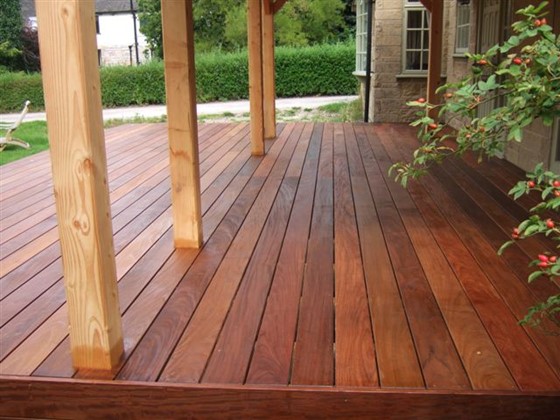 Should you wish to all colour to your timber deck, painting it with decking finishes designed for this purpose can work well. Don't be tempted to use an inappropriate paint though, as it will potentially lift off and flake, making a very messy problem to rectify. Stick to the products that have been developed for use on decking.
Some people opt to finish their decking with a clear water repellent coating. This will not have an impact on the colour of the timber but will act to repel water from soaking into the timber. Again, whether to use decking finishes such as these is personal preference. Timber is used to expanding and contracting throughout the year as moisture content varies according to the environment. This does not deter the wood in any way.
Finally, consideration should be given to anti-slip products. You might have chosen to with an anti-slip decking board from the outset and that being the case, no additional products would be required. However, you might have opted for a standard board and now wish to add an anti-slip element to steps or a regular walkway. This is possible to achieve retrospectively and we can recommend suitable suppliers for you – many of which have been accredited with our DeckMark quality scheme.
Decking finishes are certainly a bespoke choice and something that can be effectively used to incorporate your decking into the overall design of your house or garden. Keep up to date.
Subscribe for news and product updates.