How do I clean the mess off my deck left by pigeons?
If your deck has been installed close by to, or even under, trees then you may have encountered a high level of bird faeces present on the deck. This is due to the birds naturally roosting or nesting in the trees – pigeons being a particular culprit. Such stubborn deposits can be deep seated and hard to remove with a just a power washer and we advise not to force or increase the levels of water pressure as this may damage the deck surface.
It's best to clean up any mess you notice before it dries, simply using mildly soapy water and a brush. However, if after that it's still stuck, there are proprietary cleaning products you can use. It's best to clean the whole deck area at one time so the resulting clean deck is not 'patchy'.
Which cleaning product you use will depend on your timber type and whether you have previously applied a protective or decorative coating product to it – always check with the manufacturer.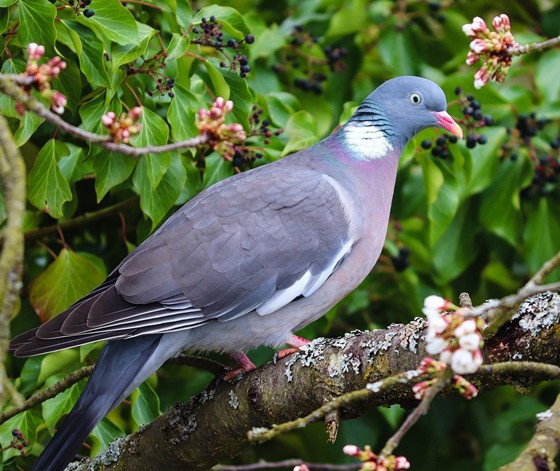 Solutions from Owatrol
Cleaning
If your deck has no previous finishing coating – whether it's softwood or hardwood, then using Net-Trol wood cleaner is an ideal starting point. Net-Trol is biodegradable and does not contain solvents or bleach. It's not harmful to plants and shrubs so it's safe to use in the garden! It is also a great product for simply reviving your deck if it has weathered and looks dull.  Net-Trol can also be used as a 'neutraliser' after stripping products have been applied and before a final finishing product.
Wet the surface with clean water
Apply Net-Trol wood cleaner with a synthetic brush or roller
Scrub the surface with a Stiff brush or broom
Leave it to work for 10-20 minutes
Scrub the surface whilst rinsing with water (low pressure jet washer can be used)
Repeat if required
If your deck is in a susceptible location to bird defecation and you are looking for a more proactive rather than reactive approach, you could apply a protective finish to the timber to allow for easier cleaning.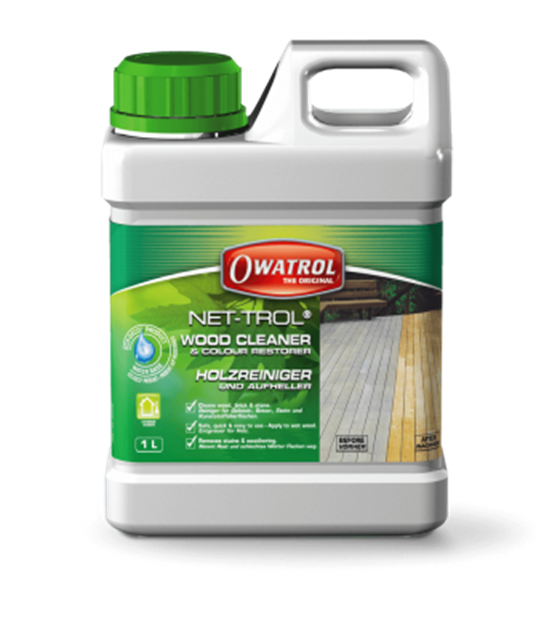 Preparation and priming
Generally a system of preparation and priming is required prior to the final product application – to remove existing residues or coatings and get the surface ready to accept the new finish. The preparation you need to do to your decking very much depends on the timber species, the state it's currently in and what has been done to it before. 
With Owatrol you have several options but do contact Owatrol directly for tailored advice on their range of products.
Prepdeck is a professional grade wood stripper which also serves as a remover for timber grade stamps and mill glaze (usually present on new timber). May be used on soft or hardwoods and thermally modified wood.
Aquanett is a powerful, biodegradable solvent-free product which will easily remove oils from your decking (please note you can only use Aquanett to remove wood oils – not paint, varnish, stains etc.). It strips out new, old and encrusted oils from exterior wooden surfaces blackened by UV rays and also cleans severely weathered wood. Please contact Owatrol for additional information and advice prior to using Aquanett on Oak and Chestnut.
Dilunett is a solvent-free paint and coatings remover which can easily and safely remove up to 8 layers of previous coatings in a single application. It is suitable for use on many previous finishes including paints, varnishes, stains, waxes and even most anti-fouling paints.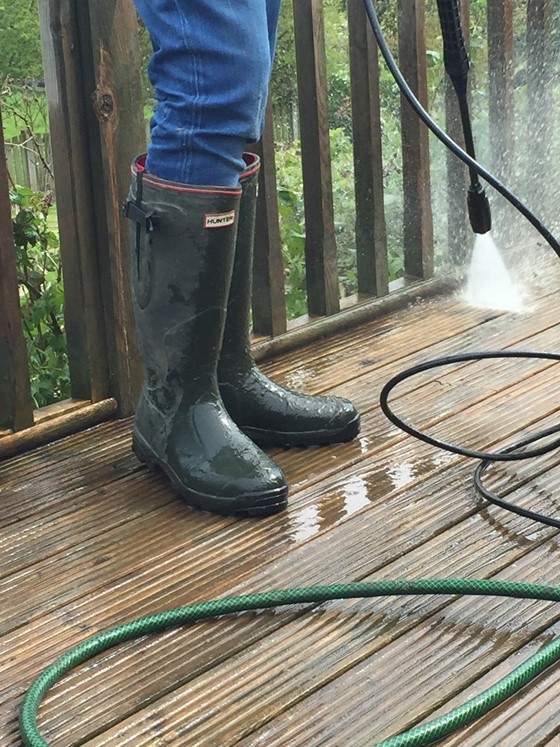 Whichever product you use, afterwards apply Net-Trol to neutralise and prevent your stripper from remaining active on the surface and eating into any future finish you apply.
Protective top coat products
Which product you choose is dependant on the timber species, the location and main use of your deck.
Linitop Prime & Finish is a multi-purpose semi-transparent penetrating wood stain including both primer and topcoat with a matt sheen finish. It is available in 13 different colours. It can be followed by a top coat of Linitop Classic for a richer colour and more hardwearing surface, good when you need to wash it down – ie to clean pigeon mess! NOT for use on Red Cedar and wood types containing an anti-oxidant e.g Iroko. Avoid wood types rich in resins.
Textrol is designed specifically for the protection of weathered softwood and hardwood  and is a saturating product which protects from within. It is available in 7 tints and has exceptional and long-lasting protection from the effects of moisture, weathering and UV rays.
Deks Olje D1 is also a saturating wood oil but it is not tinted, it simply gives a clear matt finish to really enhance the natural beauty of your decking. It is designed particularly for dense and difficult to impregnate hardwoods but it be used on softwoods too.
Aquadecks is a water-based penetrating wood finish that leaves a long-lasting, rich, matt appearance for all woods. This includes exotic hardwoods. For easy application, Aquadecks is ready to use, dries quickly and has a low odour.
Owatrol Decking Paint is designed specifically for decking and performs well in high-traffic areas. It is available in 35 stylish colours and can be applied simply with just 2 coats. It provides excellent adhesion and the film is very flexible meaning that it won't peel or flake. It's even guaranteed against this when applied correctly for 5 years on decking.
If your deck is made from composite product, please contact Owatrol who will happily provide alternative solutions from their range of products.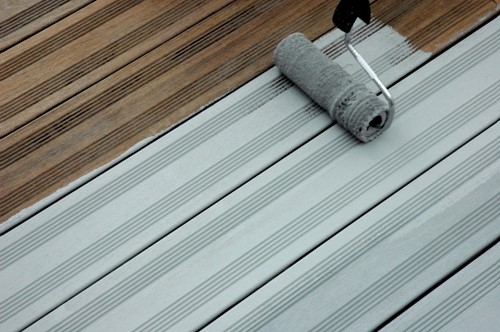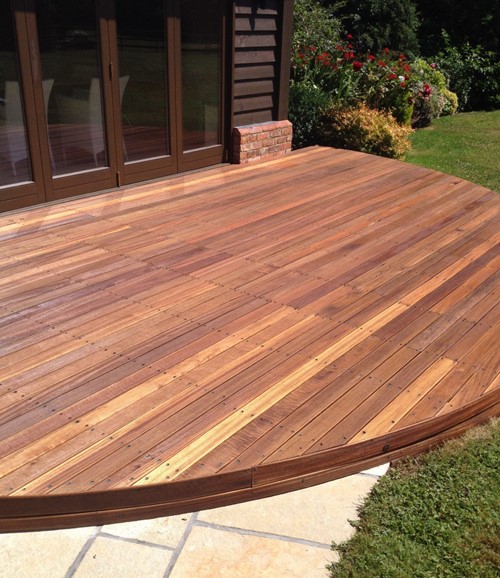 Decking location advice
It is advisable to avoid installing your deck directly underneath trees as the potential for slip is increased due to falling, wet leaves – unless you also install anti-slip measures (such as deck boards with integrated aggregate strips) or you are willing to take extra time to maintain your deck and keep it free of debris. Keep up to date.
Subscribe for news and product updates.