Timber Deck Board Options
Deck boards come in various sizes from 75mm to 150mm wide and are plain / smooth, ribbed or grooved in appearance.
To enable fast drainage and reduce the effects of movement caused by the moisture content the TDCA does not recommend using any board wider than 150mm. For complete peace of mind only specify deckboards that have been manufactured to the DeckMark quality scheme.
The wood should be straight grained and have a moisture content no greater than 20% to reduce the risk of distortion caused when timber with higher moisture levels dries to suit the local conditions.
No matter what type of deck board is chosen the edges of each board should have a machine chamfer or radius to aid drainage and prevent damage if boards do move in service.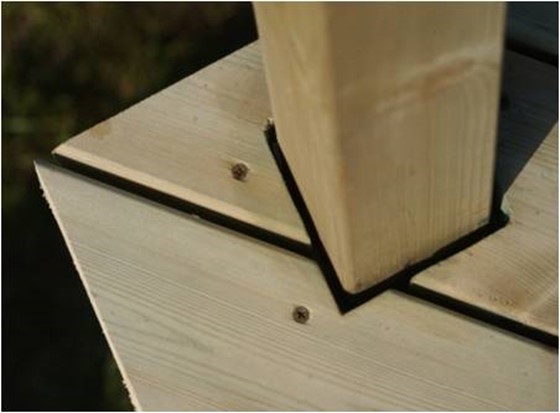 As a further aid to drainage a positive fall should be built into the deck structure. If the deck is attached to a property then the fall should be away from the building.
Grooved boards were designed to facilitate draining of the surface and should always be installed with the grooves in the direction of the fall. The grooves should be swept clean of any debris or dirt to prevent the boards from becoming saturated in wet weather, which is the principal cause of slipperiness.
A gap of no less than 5mm and no more than 8mm should be left between boards to allow for the natural movement of timber over the seasons and help surface drainage and ventilation of the entire structure. Leave a gap of 5mm where a deckboard abuts a post and no more than 2mm where deckboards abut one another lengthways.
Enhanced grip boards are available with inserts of non-slip material for use in areas where improved grip is required e.g. steps, ramps and key areas of decks and walkways for public access. DeckMark® Plus is a quality and performance rating scheme for these type of boards. It identifies enhanced grip boards that have been independently tested for slip resistance to a UK Slip Resistance Group guidelines and British Standard BS 7976-3:2002+A1: 2013.
For specific performance ratings contact the manufacturers.
From left to right, examples of smooth, grooved and ribbed deck board profile types. Keep up to date.
Subscribe for news and product updates.