Planning & Building Regulations
Planning Permission
Certain types of building work can be carried out without the need to apply for planning permission under what is called 'permitted development rights' set by the Government.
Although outdoor decks are considered permitted development, not requiring local council planning consent, there are a number of specific instances where the rules vary depending where you live in the UK. 
Situations Requiring Planning Permission (England & Wales)
Where the deck platform is more than 30cm above the ground
Where together with other extensions, outbuildings etc, the outdoor decks or platforms cover more than 50% of the garden area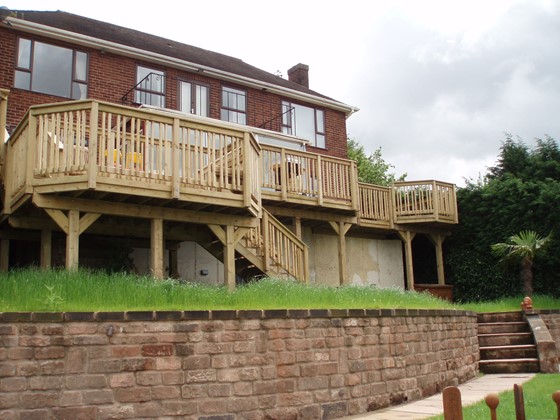 In addition other restrictions may apply:
Where the deck is situated within 20 metres of a highway.
If the structure would affect the amenity value or privacy of neighbouring properties.
If the deck is attached to a listed building or situated in a conservation area or National Park.
How to avoid planning problems 
It is highly recommended that for all but simple low-level garden decks, homeowners should always contact their local council planning department to confirm if prior approval is required or not.
 
Neighbours who may be affected by the deck and its use should also be consulted about the proposed structure.
Neighbour objections are the most usual reason for planning refusal or approval conditions and the cause of mid-construction complaints that result in the intervention of the local council.
The TDCA publishes Technical Bulletin TB02 – FREE to download once you are registered and logged in, which explains in detail, the different rules around planning and consent for building private decks in England & Wales, Scotland and Northern Ireland.  
Building Regulations 
Building Regulations are legal requirements aimed at ensuring adequate standards are followed in construction projects to make the finished job safe for people to use.
Building regulations apply to every structure that requires planning permission. Keep up to date.
Subscribe for news and product updates.