How long does a timber deck last?
A timber deck should be a long-lasting structure to enjoy for many years, so long as the right materials have been used to construct it and it is maintained effectively during its lifetime.
For peace of mind, we would always advise you to choose products that conform to the TDCA DeckMark Quality Scheme or decking which comes with a performance warranty of between 15 to 25 years, depending on the supplier.  
Take note of the terms of the warranty and keep your records safe. 
Most importantly, your timber deck boards and indeed all of the timber used in the construction of the decking, should be sufficiently durable to provide long term performance in outdoor use.  It should be made from either appropriately pressure treated softwood, chemically modified or heat treated timber or a hardwood/softwood species with sufficient inherent natural durability.  
Pressure Treated Timber and Use Classes
Softwood decking components classified as semi or non-durable must be pressure treated before installation, with an approved preservative to provide the service life required. The amount of preservative protection required is governed by its intended end use. These are categorised according to a Use Class system which is detailed in a British/European Standard BS EN 335-1.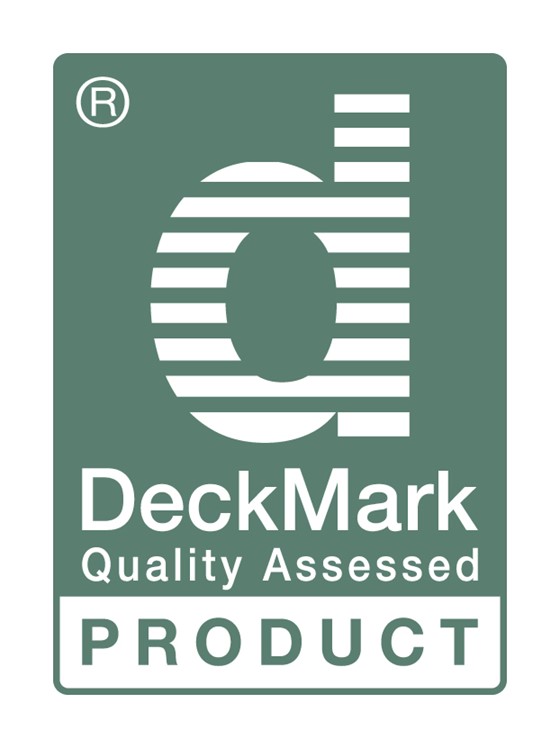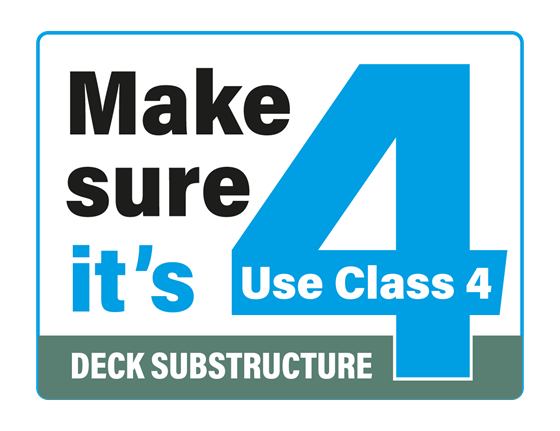 Use Class 3 : includes timber deck components such as balustrades and deck boards that are not in contact with the ground.


Use Class 4 : includes timber deck components such as posts, beams or joists (occasionally deck boards) that will be in contact with the ground or fresh water. 
As from January 2020, the TDCA recommend that all timbers providing exterior structural support should be preservative pressure treated to Use Class 4 - regardless of whether they are in ground contact or not.

This is to ensure the enhanced durability and safety of deck substructures is in line with British Standards. Learn more HERE
If any pressure treated timber is cut during the construction, the cut ends must be sealed with a brush-on end grain preservative, to maintain the integrity of the timber preservation. Your timber supplier should be able to advise/supply you.
Metal Fixings
Using the correct deck fixings which are highly resistant to corrosion from the external elements, will also maximise the life of your timber deck. You can read our advice on deck fixings here.
Maintenance
Finally, you can make a big difference to the life of your timber deck by following some sensible deck maintenance guidelines. Regular brushing with a stiff brush will help to keep the deck free from the build-up of debris or perhaps moss and grime. This is particularly important in shady areas, where leaves and debris might collect and retain moisture. Place plant pots on small 'feet' to raise them from the surface and to allow adequate drainage. It's also advisable to move their location a little from time to time. Take the time to review and check your timber deck for any deterioration or damage, at least annually. This will ensure that any small problems are resolved before they take hold.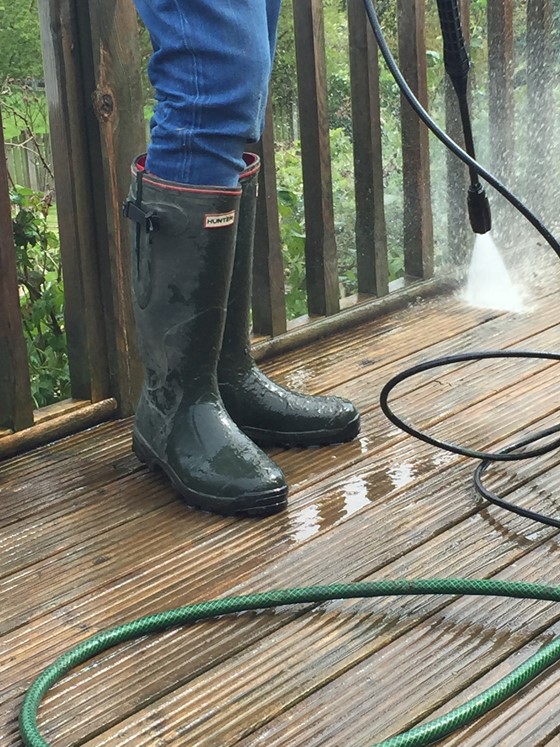 Keep up to date.
Subscribe for news and product updates.