Decking costs: how much should I be paying?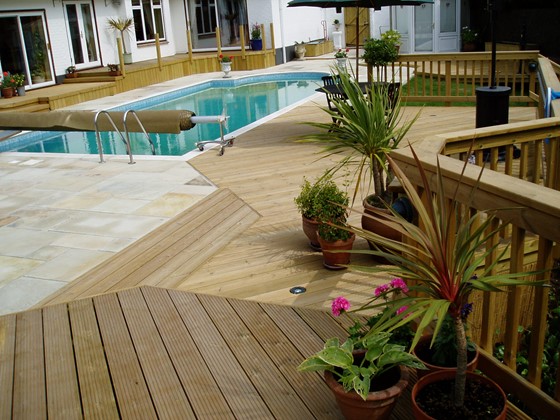 It is easy to understand that decking costs can vary enormously depending on the design and size of the project, the materials used and whether it is a DIY project or a professional installation. There are so many factors that can affect the overall price.
There is however, an increasing trend to develop decking areas within a garden, perhaps creating an "outdoor room" to be enjoyed all year round. Such enhancements can not only provide a better quality of living, they can notably add value to your home and increase its saleability if done well. So decking costs can generally be outweighed by the benefit and value of the enhancement.
Of course a poorly installed deck can be a hindrance and of no help at all, so if you are not proficient at such work, we would recommend involving a professional installer to help you with both the design and installation of the project. Such a company can also be very helpful when specifying and sourcing the best materials to use.
When considering decking costs therefore, consider the following:
What materials do you want to use? Hardwood decking will always be more expensive, but correctly treated softwood decking can be easier to work with and long-lasting. Don't skimp on cheap fixings.
Can you do the work yourself or should you budget for professional help? If you are going to take time off work to do the work, consider the cost of doing so and whether this is really the cheapest option overall.
A large deck will always be more expensive – and take more time to maintain. Think how you will use the decking and what the optimum size might be – it could be smaller than you think!
Complex designs will always increase decking costs. Understand what aspects are costing the most and be sure that you want to include them.
Ask an estate agent their opinion on the added value of a timber deck in your area. If it would add £10,000 to the value of your home, it can give you an indication of budget.
Finally, do consider what you can actually afford to spend. Decking costs don't need to be enormous to enjoy the benefit of a fresh outdoor space. Keep up to date.
Subscribe for news and product updates.