Decking balustrade – should I have one?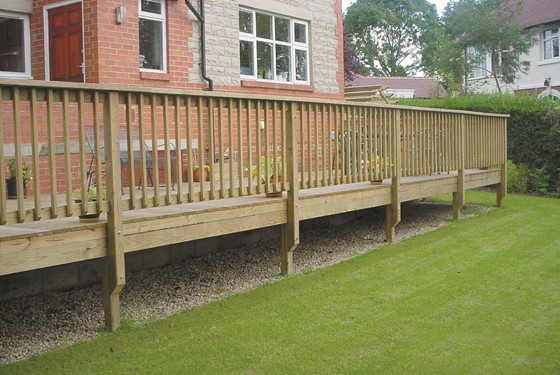 For all but the most basic low-level deck, the incorporation, design and construction of a decking balustrade (parapet) should be treated as an integral part of the overall project and not a feature to be added at a later date.
It offers a reassuring safety element to any raised edge, even when the level is quite low.
The increased interest in multi-level decks has meant a greater requirement for decking balustrades – particularly when elderly people or young children are likely to use the deck.
But balustrades can be more than a safety feature. With so many designs and styles available, it can be a clear design element too. Not only is wood a common material to use, there are many examples of decking balustrades made from more contemporary materials much as metal and glass. These can complement the timber very well and provide safety coupled with a particular style.
The balustrade does not have to be full height – this should depend on how high the deck is from the ground:
For 'low-level' decks up to 600mm from ground level – decking balustrade height should be 900mm.
For 'high-level' decks over 600mm high – decking balustrade height should be 1100mm
Bear in mind that when they are used as a safety barrier, they must conform to UK building regulations (the Building Regulations for England and Wales and the Technical Standards for Scotland). 
The TDCA can provide you with a Technical Bulletin that covers the issue of decking balustrade design and construction (Publication number TB04). This is available for free if you register with us (and this is free to do). Alternatively, you can purchase the Bulletin for a cost of £5. Keep up to date.
Subscribe for news and product updates.