Deck maintenance – what should I do?
Establishing a regular habit of deck maintenance will ensure that you enjoy the maximum life from your timber deck. Whatever outdoor surface you choose, a certain level of care and attention is always required. For decking, the requirement for maintenance is minimal, but nonetheless very important.
The most obvious aspect of deck maintenance is regular brushing with a good quality, stiff broom. It is important to keep the deck free from debris such as dead leaves and other build-up such as moss or dirt. Ensure that you brush under furniture and plant pots too. Moving your plant pots every so often and using small "feet" to allow for air to circulate underneath and ensure easy drainage is also a sensible action to care for your timber deck.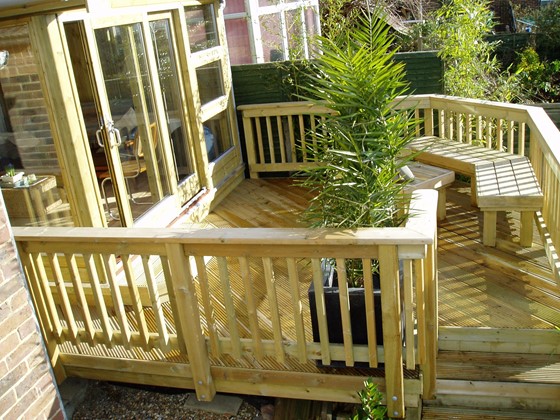 Once a year, it is advisable to undertake a more thorough clean of your deck. For this aspect of deck maintenance, you might simply use a mild detergent or a specialist deck cleaning product and a stiff scrubbing brush or you might opt for a pressure washer. The aim is to remove any grease and grime on the surface whilst restoring the look of the wood. Owatrol Net-trol is a purpose made product that is designed to effectively clean timber decking. Maintaining your deck like this will also help to reduce the conditions that cause any surface to become slippery when wet.
Unless a deck is painted with a stain, the original colour of the timber used will fade gradually when exposed to the elements. Whether your deck is made from a deeply coloured hardwood or the more mellow hues of a softwood species it will fade over time to a pleasant grey. However, using a clear water repellent coating as part of your deck maintenance will help to prevent fading. 
Timber is a natural product and as your deck timbers weather, small cracks are likely to appear on the surface of the boards. These are caused by the intermittent wetting and drying of the wood and are part of the character of wood. They have no structural effect whatsoever. This natural ageing process can be slowed by the use of a clear water repellent coating.
All bolts, screws and connections should be checked and tightened where necessary.
For more detailed information and advice on deck maintenance, please download a copy of our deck cleaning guide, which is free to registered users. Keep up to date.
Subscribe for news and product updates.