Southside Hereford University Design Challenge 2022
Friday, December 03, 2021
TDCA are once again honoured to be able to sponsor a valuable and relevant competition – the Southside Hereford University Design Challenge 2022.
The competition is open for both current built environment students and 2021 graduates from across the UK. Inter-disciplinary design teams of 4–8 members are invited to design an exemplary community building that produces more energy than it consumes – creating a 'net-zero community centre' based on timber and timber-hybrid systems.
The initiative is being led by Timber Development UK partnering with New Model Institute of Technology and Engineering (NMITE), Edinburgh Napier University (ENU) and the Passivhaus Trust.
This is a great opportunity for TDCA to be part of the conversation with architects of the future – exploring the possibilities of timber decking and cladding materials and techniques.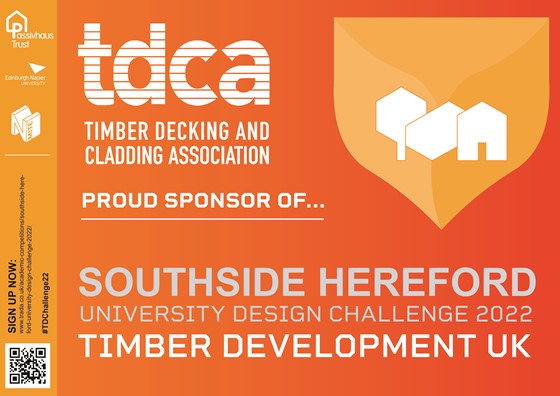 We sponsored last year's competition which was based around the Riverside complex in Sunderland – and it proved a great success with 100's of entries.
UPDATE: 29 March 2022
Entry to this competition is now closed but the organisers are sharing some highlights from the lectures series, which are just as valuable to the industry and professionals as they are to students.
Over the past 3 months, experts from across the built environment have shared valuable guidance to the industry, professionals and students. There has been an incredible response from the community who are keen to share. 
TDUK Keep up to date.
Subscribe for news and product updates.